Cache-Optimised Methods for the Evaluation of Elementary Functions
The ratio between processor speed and memory speed frequently makes efficient use of cache memory a very important element in performance of user's application. This is the case for many elementary function algorithms. They commonly use tables, so that caches have a deep impact on speed. This paper discusses and quantifies the impact of cache usage over both major criteria in the evaluation of elementary functions: speed and accuracy.
Cet article étudie l'influence de l'utilisation des mémoires caches sur les deux critères majeurs pour l'évaluation des fonctions élémentaires: vitesse et précision. En effet,nous observons que la différence croissante de vitesse entre processeurs et mémoires, rend l'utilisation efficace des mémoires caches importante pour obtenir des applications performantes. Les tests réalisés quanfient l'impact des caches de données sur la vitesse pour l'évaluation de fonctions élémentaires.
Fichier principal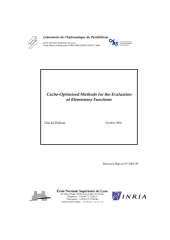 RR2002-38.pdf (107.5 Ko)
Télécharger le fichier
Origin : Files produced by the author(s)