Satellites galiléens de Jupiter : phénomènes et configurations pour 2010, suivis d'une méthode permettant de calculer les phénomènes pour 2011
Starting from 1996, ephemerides of natural satellites have been published in the Connaissance des Temps. A CDROM is available. These ephemerides give the positions of the satellites of Mars, of the Galilean satellites of Jupiter, of the first eight satellites of Saturn and of the five satellites of Uranus involving secular and periodic terms and depending directly on time. The accuracy is near that of the original theories. However, observers wish to keep ephemerides allowing to identify immediately the Galilean satellites and to know the dates of the phenomena which are calculated to the nearest second of time. This is given by the present booklet, particularly the configurations giving positions with an accuracy of 10" relatively to Jupiter. Besides these informations, the present booklet gives various data concerning the Galilean Satellites. We also present a method which permits the calculation of the phenomena for the next year.
A partir de 1996, des éphémérides des satellites naturels ont été publiées dans Ia Connaissance des Temps. Un CDROM accompagne cet ouvrage. Ces éphémérides donnent les positions des satellites de Mars, des satellites galiléens de Jupiter, des huit premiers satellites de Saturne et des cinq satellites d 'Uranus avec une précision proche de celle des théories originales. Cependant, des observateurs ont souhaité continuer à disposer d 'un ouvrage permettant d'identifier les satellites galiléens et de connaître les instants des phénomènes présentés par ces satellites et calculés à une seconde de temps près.En particulier, les configurations précises permettent très facilement de situer les satellites avec une précision de 10" par rapport à Jupiter. On trouvera aussi des renseignementsgénéraux sur les satellites galiléens en début d 'ouvrage ainsi qu'une méthode de calcul des phénomènes pour l'année suivante en fin d 'ouvrage.
Fichier principal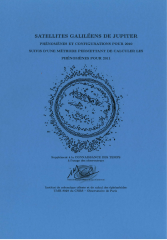 IMCCE-satJupiter_2010.pdf (4.2 Mo)
Télécharger le fichier
Origin : Files produced by the author(s)