Sécurité alimentaire et politiques nutritionnelles : enjeux et perspectives
In this article, the author deals with the delicate issue of nutrition policies, whose two main axes are based on the management of abundance and internationalization. He also highlights the difficulty of conducting such a policy, as food is under the aegis of several ministries, with the multiplicity of actors and standards creating a complexity that is not conducive to action. Nutritional policies impose restrictions or obligations on economic actors in the name of public health protection. Several modes of regulation operate within the framework of nutritional policies: nutritional scores, improvement of product quality, regulated advertising, tax incentives, etc. But the reinforcement of school education regarding food is essential in order to bring about a real change.
Dans cet article, l'auteur traite de la délicate question des politiques nutritionnelles dont les deux axes principaux reposent sur la gestion de l'abondance et l'internationalisation. Il met également en effet la difficulté de mener une telle politique, l'alimentation se trouvant sous l'égide de plusieurs ministères, la multiplicité des acteurs et des normes créant une complexité non propice à l'action. Les politiques nutritionnelles imposent des restrictions ou des obligations aux acteurs économiques au nom de la protection de la santé publique. Plusieurs modes de régulation opèrent dans le cadre des politiques nutritionnelles : score nutritionnels, amélioration de la qualité des produits, publicité encadrée, politique fiscale incitative etc. Mais le renforcement de l'éducation scolaire en ce qui concerne l'alimentation est primordial afin d'insuffler un réel changement.
Fichier principal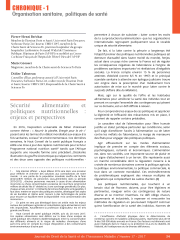 Sécurité alimentaire et politiques nutritionnelles - enjeux et perspectives Pages de jdsam-n17-septembre-2017-25.pdf (264.34 Ko)
Télécharger le fichier
Origin : Explicit agreement for this submission