The entrepreneurial intention of digital project leaders : the influence of the representations conveyed by the media.
De l'intention d'entreprendre des porteurs de projets numériques : l'influence des représentations véhiculées par les médias
This doctoral dissertation focuses on the question of the influence of media narratives on the entrepreneurial intentions of digital project owners. Three questions have been selected, each of which has been the subject of a specific field of study, resulting in three research articles.The first article proposes a critical examination of the media discourse produced by the press on start-ups. As an extension of this first essay, the second article examines the question of the adherence of digital project owners to these representations. Finally, the third article aims, in an exploratory approach, to complete the analysis of the two previous works by revisiting the question of "entrepreneurial intention". The research approach led to the construction and processing, depending on the article, of quantitative or qualitative data to try to find the most plausible explanations for the observed phenomena. All the discussions allow us to formulate a proposal. Digital entrepreneurship can be considered, not as an extension of classical entrepreneurship, but as a new paradigm based on a series of original principles, atypical procedures and new practices, thus opening new research perspectives.
Cette thèse de doctorat en Sciences de Gestion s'intéresse à la question de l'influence des récits médiatiques sur l'intention d'entreprendre des porteurs de projets digitaux. Trois questionnements ont été retenus qui ont chacun fait l'objet d'un terrain d'étude spécifique donnant lieu à trois articles de recherche. Le premier article propose un examen critique du discours médiatique produit par la presse sur les start-ups. En prolongement de ce premier essai, le deuxième article examine la question de l'adhésion des porteurs de projets digitaux à ces représentations. Enfin, le troisième article vise, dans une démarche exploratoire, à compléter l'analyse des deux travaux précédents en revisitant la question de « l'intention entrepreneuriale ». La démarche de recherche a amené à construire et à traiter, selon les articles, des corpus de données quantitatives ou qualitatives pour tenter de trouver les explications les plus plausibles aux phénomènes observés. L'ensemble des discussions permet de formuler une proposition. L'entrepreneuriat numérique peut être envisagé, non pas comme un prolongement de l'entrepreneuriat classique, mais comme un nouveau paradigme fondé sur une série de principes originaux, de procédures atypiques et de pratiques inédites, ouvrant ainsi de nouvelles perspectives de recherche.
Fichier principal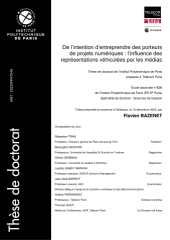 98970_BAZENET_2022_archivage.pdf (4.22 Mo)
Télécharger le fichier
Origin : Version validated by the jury (STAR)